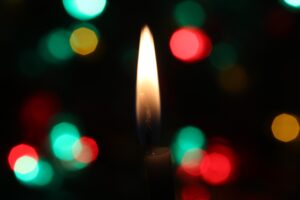 A few years ago, I wrote this post. After everything we've been through in 2020, reading through it was cathartic for me — I hope it will be for you, too. Happy New Year, friends; may 2021 bring better things for all of us.
The Magic Isn't Where You Think
Shhh…
Listen.
Can you hear it?
Get Quiet. Be still.
Listen.
              Turn off the music for a minute.
Can you hear it now?
Close your eyes.
Rest your body.
THERE!  
There it is!! Did you hear that?!
Shhh…
Don't hold your breath…
                                             Breathe gently.
Let it it find the rhythm of your breath and ride those waves into your conscience…
       THERE!  
Did you hear it now?
That still small voice?
That purity of thought?
That brilliant spark of an idea set deep inside of you, waiting to be heard, longing to be seen?
This is a time of year wrapped up in so many things: good, bad, happy, sad, joyful, mournful, loving, scary. It's a time for miracles and a time, for some, when miracles have proven a fantasy.
Whatever this season holds for you, I encourage you to take a moment to get still. To look deeper. To listen closer. To feel more courageously as the real miracle of the season occurs. The real miracle is you. It's your heart and your love and your compassion and your wisdom. Deep inside of you lives a truth desperately seeking to be heard.
Listen.
             Can you hear it?
Our deepest fear, as Marianne Williamson taught us, is not that we are inadequate, but rather that we are powerful beyond measure. Deep below the distractions of the season, the lights, the sales, the money, the decorations, the family obligations, the services, the tree…lives a deeper magic: You.
Do you have the courage to listen? This season calls us, at the darkest time of the year, to find the light, to share the love, to bring the warmth that ignites the soul. The spark is you. It has always been you. It is my holiday wish that you receive the greatest gift possible — you! And the knowing that, in the immortal words of Winnie The Pooh: "You are braver than you believe. You are stronger than you seem. You are smarter than you think. And you are loved, more than you know."  And you take from this season that courage, that strength, that intelligence and that love, and you give it to the world. We need it now more than ever. And YOU may be the one we've been waiting for.
Photo by D A V I D S O N L U N A on Unsplash